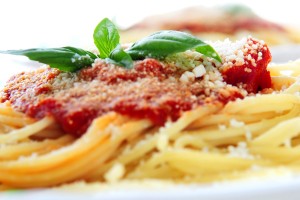 We want to let you know how much we appreciate all of your continued business and support during these unprecedented times!  Thank you!! Now Celebrating our 75th year in business.
Take Out #518-355-3663   
Appetizers
New! Bosco Sticks  – $5.99  bread stuffed with melted mozzarella cheese
Mozzarella Sticks – $7.99
Breaded Ravioli – $7.99
Pasta E Fagioli – $6.99
Asst. Appetizer Platter – $11.99
3 Breaded Ravioli, 3 Cheese Sticks, 3 jalapeno poppers served with appropriate sauces.
Soup Of The Day – Pint – $5.50 – Cup – $3.95
Minestra & Beans – $7.99
Cavatelli – $12.99
in tomato cream basil sauce
Roasted Red Peppers and cheese– $12.99
Jalapeno Poppers – $7.99
*Melba sauce by request
Salads
Individual – $3.95
For Two or Three People – $5.95
Family Size 4 to 5 People – $10.95
Antipasto – Lg. – $17.25- Sm. $13.99
Pasta
Homemade Macaroni – $17.50
w/ Meatballs or Sausage
Homemade Cavatelli – $17.50
w/ Meatballs or Sausage
Homemade Manicotti – $18.50
w/ Meatballs or Sausage
Homemade Ravioli – $18.50
w/ Meatballs or Sausage
Homemade Fettuccine – $17.50
w/ Meatballs or Sausage
Homemade Lasagna – $17.95
Ziti – $15.50
w/ Meatballs or Sausage
Spaghetti – $15.50
w/ Meatballs or Sausage
Linguini – $15.50
w/ Meatballs or Sausage
Capellini – $15.50
w/ Meatballs or Sausage
Linguini – $17.50
Tossed in your choice of Red or White Baby Clam Sauce
Fettuccine Alfredo – $18.50
Entrees
                                     Served with Spaghetti or Ziti or Oven Roasted Potato and Vegetable
Chicken Parmigiana – $17.99
Boneless Chicken Cacciatora – $18.99
Chicken Marsala – $18.99
Eggplant Parmigiana – $17.99
16 oz. N.Y. Strip Steak – $29.99
Desserts
Tiramisu – $7.95
Colossal Cheese Cake – $6.99
w/ Strawberries – $7.99
Carrot Cake – $6.99
Triple Chocolate Fudge Cake – $6.99
**All prices subject to change without notice**