Starters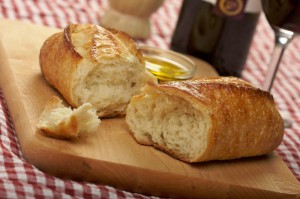 Jumbo Shrimp Cocktail – $12.99               A wonderful way to start your meal! Tender shrimp served with our zesty homemade cocktail sauce.
Homemade Cavatelli in Tomato Basil Cream Sauce – $12.99
A specialty of the house.
Mozzarella Sticks – $7.99
Golden brown outside, creamy inside and served with your choice of tomato or melba sauce.
Roasted Red Peppers and Cheese – $13.50
Fire-roasted red peppers marinated with olive oil and fresh garlic served with your choice of fresh mozarella or fontinella cheese.
Steamed Clams – $12.99
A dozen of fresh steamed clams w/ drawn butter.
Fried Calamari – $14.99
Fresh calamari rings and tentacles, lightly breaded and served golden brown.
Breaded Ravioli – $7.99
Cheese-filled ravioli deep-fried and served with tomato sauce.
Assorted Appetizer Platter – $11.99
For those who cannot make up their mind. Breaded Ravioli, Mozzarella Sticks, and Jalapeño Poppers. Served with your choice of tomato or melba sauce.
Cheesy Bread Sticks – $5.95
Two golden fried breadsticks that are stuffed with mozzerella cheese, then sprinkled with romano and served with our own marinara sauce.
Jalapeño Poppers – $7.99
Whole jalapeño poppers stuffed with cream cheese, deep fried,
Mussels – $11.99 for a dozen
Bowl of fresh Prince Edwards Mussels sauteed in butter and fresh garlic, topped with white wine and finished with either a red or white sauce OR Fra Diavolo sauce.